My Shoes: (please ignore the tan lines)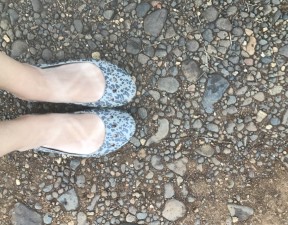 I bought these shoes, in a chocolate brown color.
I tried them on before I packed them in our shipment for Papua New Guinea.
When I got the boxes unpacked I still couldn't find these shoes, in chocolate brown.
(Notice these aren't chocolate brown.)
I really needed another pair of shoes.  I really wanted MY shoes.
Here's the thing, God knows what I NEED.
My friend was leaving and had an extra pair of my shoes in my size…only difference is the color!
These shoes are an answer to prayer.
It may have seemed little but it's something I needed.
It has bolstered my trust in God, that He truly knows what I NEED and He can and will provide.
I wear them and remember that God is my provider almost every day.
We are close to being a year in country so I'm choosing to look back and recount, testify to the goodness of God.  The ways He has provided and maybe a few other thoughts about being here for a year.
It feels big and small at the same time:
It's been a whole year…
We have three more!
I go back and forth between these two often.
So I'm choosing to rejoice, give thanks and recount the many things God has done!
Thanks for being a part of this journey.
Thank you for reading and for your encouragement.
Most of all thanks for praying and all that many other ways you encourage us here!