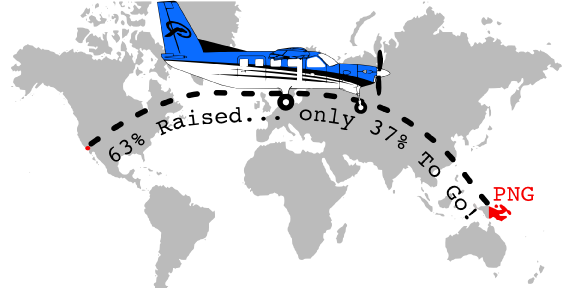 Like our new graphic?  Thanks to our talented cousin this picture shows just how close we are to reaching the goal of Papua New Guinea by July of 2017!
If you want to help us move that plane closer to PNG please consider partnering with our Wycliffe ministry.
All you have to do is click the link below.
The word partner implies a mutual benefit.  We believe that when you partner with us you will be blessed.
Your partnership also puts you on the front lines of Bible translation.
There are over 300 languages in PNG still waiting for access to God's Word!
These people have NO access to God in any form.
In many countries we have radio, or the written Word.  There are opportunities to find a church, especially here in the USA.
However this is not the case in PNG, but you can help change that!
If you have questions, or would like to sign up for our newsletter just click the link below.
Then hit the Pray and Stay Connected button under our picture and leave us your information.
"How, then, can they call on the one they have not believed in? 
And how can they believe in the one of whom they have not heard? 
And how can they hear without someone preaching to them? 
And how can they preach unless they are sent?…"
~Romans 10:14&15
Will you please help send us?
You can also book us to speak at your church, share with your small group or Sunday school class.
We can also share a meal and answer any questions you may have.
Click the link and Send a Note with a date your interested in us sharing our Wycliffe ministry.